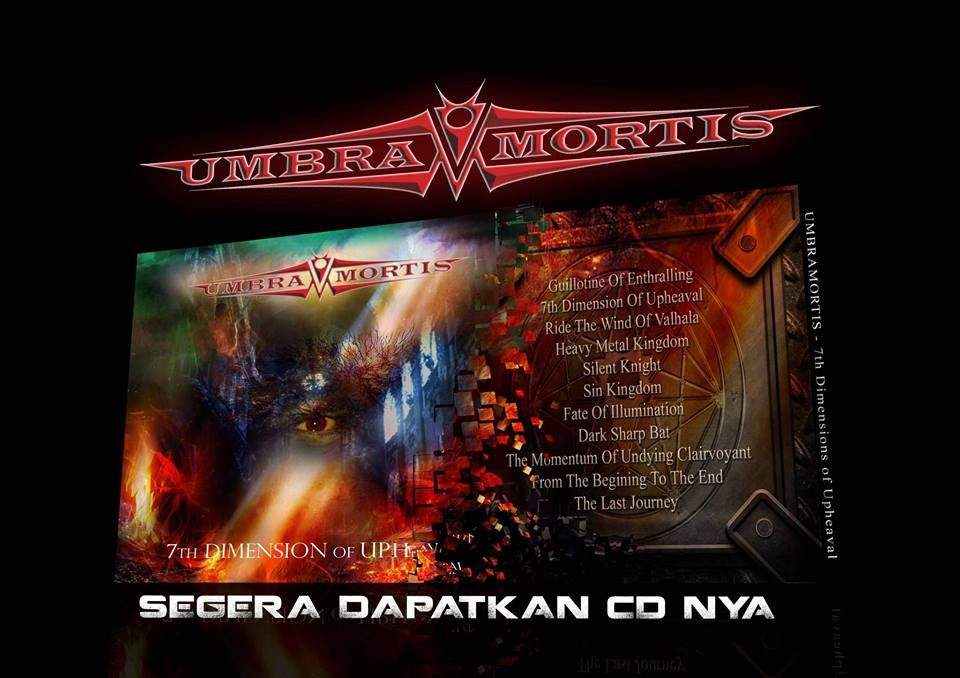 Biografi dan Album baru Umbra Mortis [Indonesian power metal]
21/07/2013
0
Album baru Umbra Mortis [Indonesian power meta

l]
REVIEW - Kali ini area-frontal akan membahas soal album baru dan juga sejarah dari band power metal kawakan Indonesia UMBRA MORTIS.

Umbramortis terbentuk dari sebuah komunitas kecil yang mempunyai mimpi besar ingin menjadi sebuah musisi dunia yang diperhitungkan. Umbramortis dengan bangga berani mengusung scene Black Metal pada tahun pertengahan Juli 1992. Umbramortis yang pada saat itu ingin memperkenalkan scene Black Metal di Indonesia dikarenakan belum banyak dari musisi metal di tanah air yang mengusung scene itu. Banyak band luar negri yang menjadi referensi Umbramortis pada saat itu antara lain: MAYHEM, BURZUM, DARKTHRONE, dan masih banyak lagi. Dengan keyakinan maka Umbramortis terbentuk dengan formasi awal yaitu:


1 UKAY MORTIS: GUITAR/LEAD

2 FUAD ZIBRIL: BASS / VOCAL
3 DANTON: VOCAL
4 MUCHSIN: DRUMS

Dengan line up diatas pada pertengahan April 1996 " UMBRA MORTIS " meluncurkan album pertama dengan tittle " ALAM ARWAH KEMATIAN " dengan label "RK MUSIC STUDIO". Setelah sukses dengan album pertamanya Umbramortis banyak mengikuti beberapa event didalam maupun luar kota.


Umbramortis semakin memantapkan kedudukanya sebagai sebuah band dengan diantaranya selalu eksis di setiap project metal seperti tersebut di bawah ini:


1. Kompilasi " BLASTING " pada Februari 1998 dengan tittle " UMBRA MORTIS "

dibawah label BMS RECORDS

2 . Januari 2000 kembali Umbra Mortis mengikuti kompilasi

" NEO HELIST PART 1 & 2

dengan tittle " SATU PURNAMA PUNCAK KEABADIAN " dibawah label


" ESP RECORDS ",


3 . April 2004 Umbra Mortis mengikuti Kompilasi " Metalik Klinik 6 " dibawah label

"Musica Records" dengan tittle yang sama.

Seperti halnya dalam mencari inspirasi dalam bermusik, Umbramortis tidak akan mau hanya terjebak di salah satu ide saja. Dari kematangan pencarian karakter dengan berawal dari proses perjalanan panjang personil2nya dalam bermusik dan berkarya


Umbramortis akhirnya mendapatkan sebuah nilai lebih dari proses itu.


Sungguh terjadi pergolakan hebat dalam diri Umbramortis ketika tercetus sebuah ide Brillian yang saat itu muncul, ibarat seperti diumpamakan menemukan jalur yang sangat tepat dalam bermusik dan berkarya.


Tanpa ragu dan bimbang Umbramortis memutuskan untuk membuat konsep baru sebuah band yang mengubah konsep dalam bermusik dengan mengusung scene POWER METAL. Secara otomatis pula hal itu mendorong Umbramortis untuk segera menghasilkan karyanya dalam bentuk sebuah Album.


Ada beberapa pergantian formasi personil pula mengikuti perubahan scen musik metal yang diusung. Antara lain:


1. UKAY MORTIS: GUITAR

2 .SISHIDO YUTAKA: GUITAR
3 .ELVIN ZAENAL : BASS / VOCAL
4. AMBON MORTIS: DRUMS

Tanpa berhenti bergerak Umbramortis kembali menggebrak kancah metal dengan meluncurkan kembali karya besarnya di album kedua pada bulan April 2005 Umbra Mortis " DARKNESS VICTORY " dibawah label " BIZZARE RECORDS "


Beberapa event-event besar yang diramaikan Umbramortis:


1. Tahun 2006 Umbramortis mencadaskan dalam kompilasi

" Metalik Klinik 8 " di bawah label MUSICA Record.

2 .November 2005 Kompilasi " INDONESIAN UNDER GROUND "


dibawah label " EDLEWEISS RECORDS " dengan tittle "QUEEN OF THE DAMNED "


3. Maret 2006 kembali Umbra Mortis ikut dalam kompilasi

" ARMY OF BLACK WALLY " dengan title "BLACK WIDOW" di bawah label

" INVIO LABLE RECORDS ".


Setelah mengikuti beberapa Event dan kompilasi " Shisido Yutaka "( Sang Guitaris) memutuskan untuk kembali ke Negara asalnya (Tokyo Japan). Dikarenakan hal itu maka kosongnya posisi guitar dalam tubuh Umbra Mortis akhirnya pada Januari 2006 Umbra Mortis merekrut " Willy Damien " untuk menggantikan posisi " shisido Yutaka " sebagai penggantinya, tanpa berhenti bergerak pada bulan Agustus 2006 kembali ikut dalam Kompilasi " METALIK KLINIK 8 " dengan tittle " NYCTOPHOBIA " di bawah label " MUSICA RECORDS ".


Setelah selesai proses rekaman pada pertengahan Desember 2007 Elvin Zaenal mengundurkan diri karena kesibukannya, maka dengan kosongnya posisi pada Vocal Bass maka Umbra Mortis merekrut Erick untuk mengisi kekosongan pada tubuh Umbra Mortis.


Sekian waktu berlalu dengan tanpa berhenti berkarya sudah sangat wajar adanya sebuah band mengalami beberapa revolusi yang signifikan dalam menjalani sebuah perkembangan. Hal itu tidak lain dan tidak bukan dengan disertai sebuah innovasi-innovasi pergerakan yang akhirnya tiba pada sebuah titik terang. Hal itu adalah dengan secara ketidaksengajaannya pertemuan antara Ukay ( Sang Guitaris) dengan Koko yang merupakan teman lama dahulu waktu Ukay menuntut ilmu di Jogjakarta pada tahun 1999, di sebuah Event Metal besar di Bulungan Jakarta. Berawal dari pertemuan itu, berlanjutlah dengan Jams Session antara mereka. Maka diputuskanlah bahwa formasi Umbramortis terbaru kembali di tetapkan:


1. KOKO: VOCAL

2 .UKAY MORTIS: GUITAR
3. WILLY DAMIEN: GUITAR
4. ERICK : BASS
5. AMBON MORTIS: DRUMS

Dengan formasi tersebut Umbramortis siap untuk menggebrak kembali kancah metal di dunia dan tanah air secara khususnya dengan membuat single terbaru dengan vocal yang terbaru dan music yang lebih variatif dan lebih cepat.
Biografi dan Album baru Umbra Mortis
Wuiiih cukup panjang juga Biografi band legend ini, berikut sedikit chit chat admin area-frontal dengan dedengkot dari UMBRA MORTIS , kang Ukay Mortis :
1
. AF : Bang ukay sehat ?

Ukay : haloooooo sehat brow hehehheh
2
. AF : Udah berapa tahun ya umbra mortis ini vacuum yaa, saya baru denger ini rilisan albumnya ?

Ukay : umbramortis tidak pernah vacum,kami eksis terus seperti air mengalir


[wooww kereen mantap ini,pantas ditiru nih semangatnya bro]
3. AF :
7 Dimension of Upheavel ini album yang keberapa ya om ukay buat umbra mortis ?

Ukay : ini album yg ke 3,dan kami terus mengikuti berbagai kompilasi...
4. AF : lbum ini menceritakan tentang ap yah om ?


Ukay : meceritakan tentang kehidupan manusia.dari sudut pandang riil dan fiksi


[jadi g sabar nih dengerin lagu2 nya hehe]
5. AF : Dari album ini siapa om yang nyumbangin ide paling banyak ?


Ukay : saya yg membuat konsep dan teman2 yg mengembangkannya...
6. AF : Udah ada rencana apa aja buat promoin album ini om ukay via radio,tur ato mungkin ad ide lain ?


Ukay : semua sudah kami rencanakan semoga berjalan lancar


[hhmmm masih rahasia nih kayake , kita tunggu saja kejutanya sodara2 hehe]
7. AF : Dimana kira2 kita2 ini bisa dapetin kaset CD nya ?


Ukay : nanti di cd album kami sudah ada official distro di tiap kota
8. AF : Menurut om band power metal paling berpengaruh di Indonesia siapa sih om?


Ukay : menurut saya POWER METAL

[Sebenarnya pertanyaan ini sdikit menjebak ,hahaha, ternyata dengan rendah hati kang Ukay menjawab POWER METAL , ini nih walo saingan tapi masih saling mengakui ]

9. AF : Gmana menurut om perkembangan musik metal di Indonesia sekarang ini ?


Ukay : cukup antusias dan sangat pesat perkembangan musik di tanah air
Ini adalah chit chat singkat saya dengan kang Ukay Mortis , ini tanya jawab via online.


Kita tunggu saja kehadiran album baru UMBRA MORTIS ini , klo pengen denger demo album baru mereka silahkan kunjungi halaman reverbnation mereka .
UMBRA MORTIS
[originally published at:

http://area-frontal.com/biografi-dan-album-baru-umbra-mortis-indonesian-power-metal/

]